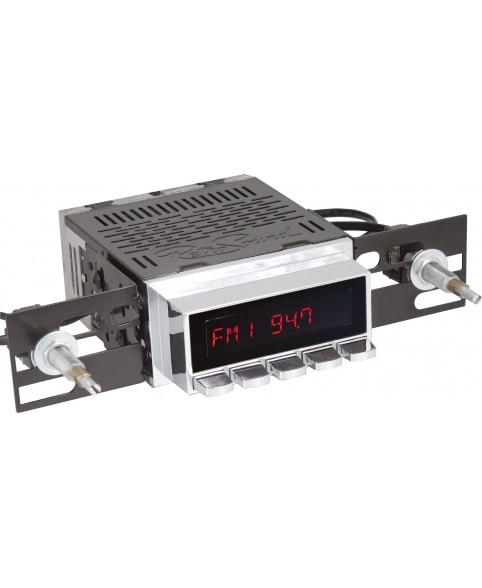  
Car radio Long Beach RetroSound chrome
Car radio Long Beach RetroSound chrome.
RetroSound®'s Long Beach radio is the most technologically-advanced radio ever made for your classic car. The compact size installs easily and discreetly behind the dash for a fully integrated look.
Long Beach is the only Made-For-iPod®/iPhone® radio for your vintage ride, and also features built-in Bluetooth® connectivity for hands-free phone calls and wireless audio streaming. Long Beach features a 32,000 color display to customize your radio to your vehicle's interior. Two USB ports for iPod®/iPhone® plus two standard auxiliary inputs are included. Long Beach has a built-in 25 watts x 4 channel power RMS MOSFET amplifier as well as front and rear RCA pre-outs, plus subwoofer output, to add external amplifiers. It mounts seamlessly into your dash thanks to RetroSound®'s patented InfiniMount adjustable bracket system.
Made for iPod® /iPhone®
Built-in Bluetooth® connectivity
32,000 color display
Authentic push-button styling
AM/FM RDS tuner with 30 pre-sets (possibility to adapt for DAB+ (ref.RETRO-DAB1)
Two rear-mounted USB ports for iPod® /iPhone® or USB flash drive
Two auxiliary inputs for portable devices
25 watts x 4 channel RMS power amplifier
Dual RCA pre-outs plus subwoofer output for external amplifiers
Patented InfiniMount adjustable shaft system
Body can be mounted remotely for custom installation using optional extension cable
Long Beach is available in four styles:
Chrome with chrome push-buttons
Chrome with black push-buttons
Chrome with ivory push-buttons
Black with black push-buttons
PAY ATTENTION : these car radios work in 12 volts and most of classic car works in 6 volts. We can transformer it from 6 to 12 volts with the reference 33-110 (available in our website).

If you want a professional assembly, the installation of your car radio can be realized in our workshops. Ask for advice or a quote via our contact form.